PurSlep and Minute Suites
The goal of Minute Suites is to provide our customers with the most relaxing and restful experience possible. Our Atlanta locations are adding an extra element to help guests unwind with our offering of Purslep, a custom formulated CBD full-spectrum oil designed for sleep. The all-natural, gluten-free, and vegan-friendly sleeping aid is a game changer for people trying to get some quality napping in while traveling.
Why Choose PurSlep?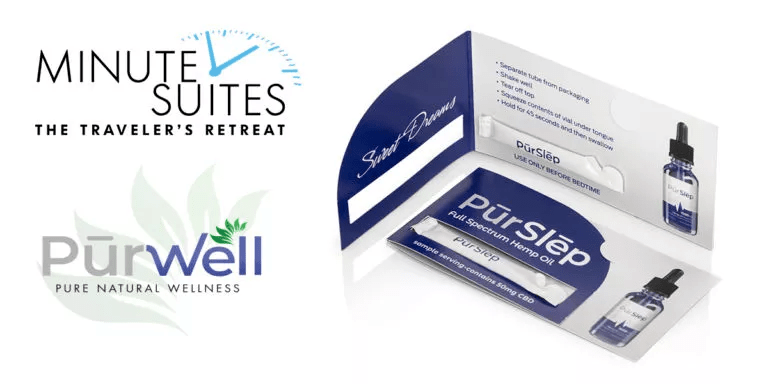 Traveling from one time zone to another can put a strain on your normal sleeping schedule. Instead of resorting to sleeping medications, choose the natural option. PurSlep is a revolutionary product made with a proprietary blend of holistic supplements that encourage your body to de-stress and enter sleep naturally. The oil is extracted from responsibly sourced, high-quality plants that yield beneficial cannabinoids, such as CBD, CBN, and CBG.
Cannabidiol (CBD) has been proven to reduce stress and anxiety (two very common side effects of traveling) and also help with soreness and pain. Combining the powerful effects of CBD with natural sleep aid ingredients like melatonin, valerian root, chamomile flower extract, and a combination of other holistic components is what sets PurSlep apart from its competitors. You will be hard pressed to find a better natural sleep option, especially at the airport.
PurWell has won several awards for the purity, sourcing, and overall excellence of their products. In 2019, PurWell's CBD took home the Gold award for New Product Pavilion Providers' Choice Award at Medtrade Spring for its all natural products. With the amount of CBD based relaxation and sleep products on the market, this is a competitive award and a huge honor.
Relax in Your Private Retreat with PurSlep
Minute Suites is the leader in airport relaxation with our luxury private suites that allow you to sleep in your own room during your layover. We have hundreds of customers ask us if we have anything that can help them sleep after a long day of flying. Anyone who has rushed around an airport knows that it is easy to be physically exhausted but still have your mind on high alert while traveling. Let PurSlep and Minute Suites ease your racing thoughts and help you get the sleep you need for the remainder of your travels.
Guests in our Atlanta locations are fortunate to be able to experience the benefits of PurSlep, it adds just one more level of comfort to their stay. PurSlep is helping guests get the sleep they need while on business and leisure trips.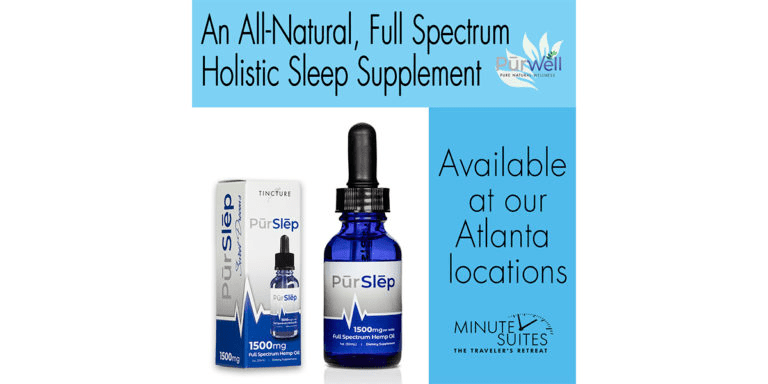 Nap, Relax, and Work with Minute Suites
You can find Minute Suites luxury retreats in DFW, CLT, ATL, and PHL with 8 locations opening in 2020. Our goal is to provide travelers with a restful place to escape from the hustle and bustle of airport travel. Stay up-to-date with our announcements and news by following our social pages. Book your private retreat with us today.